Different Types of Car Locking Mechanisms
03/02/2014
Back To Blog
There are several types of car locks for your car. There are different ways to gain entrance into your vehicle even if you have locked your keys inside it. If you have ever locked your keys inside your vehicle or know someone who has, there are some steps to take to try to retrieve your keys. You may have been rushing or the weather was bad but in any case these steps will help. If you are at home when you lock your keys in the car you may be able to get them out yourself without the help of a professional from locksmith Brentwood.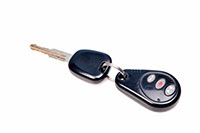 Power Door Locks
Power door locks give the passenger and the driver control to simultaneously secure or unlock all the doors in the vehicle. The doors can be locked or unlocked by pressing a button or flipping a switch. They were first introduced around 1914 but were common in 1956 on most cars whether luxury or not. Now they are offered in every make and model.
There are now locks for the trunk and the fuel cap door. Some locks are activated automatically when the car is put in gear or the car reaches a certain speed.
External Key Door Lock
The Ford Motor Company first introduced the external keypad keyless entry locking mechanism in 1980. The external keyless door locking mechanism was installed with a keypad on the outside of the door. The driver is able to program their own personal passcode to gain entry to the vehicle. It will only unlock the driver side door. Some manufactures installed a feature that would give the driver access to the vehicle by pulling the driver door handle and certain number of times.
Keyless Remote Lock
A keyless remote is activated by a handheld device. The keyless remote is widely used in modern automobiles. If you are within a few yards of the vehicle you can press a button on the remote to secure and unlock the doors.